July 18, 2023
Introduction to Amazon SEO
Understanding the importance of product rankings on Amazon
How Amazon's search algorithm works
In today's highly competitive e-commerce landscape, achieving high product rankings on Amazon is crucial for maximizing visibility, driving sales, and growing your business. As the world's largest online marketplace, Amazon offers immense opportunities for sellers to reach a vast customer base. However, standing out among millions of products can be a challenge. That's where Amazon SEO comes into play. Understanding and harnessing the power of Amazon's search algorithm is key to boosting your product rankings and capturing the attention of potential customers. By optimizing your product listings with strategic keywords, relevant content, and other essential elements, you can increase your visibility, improve organic search rankings, and ultimately drive more conversions. In this comprehensive guide, we will delve into the intricacies of Amazon SEO, providing valuable insights and actionable strategies to enhance your product rankings and achieve success on the platform.
Keyword Research for Amazon SEO
Identifying relevant keywords for your product
Utilizing keyword research tools for Amazon
Effective keyword research is the foundation of a successful Amazon SEO strategy. By identifying and targeting relevant keywords, you can optimize your product listings to match the search queries of potential customers. Start by brainstorming a list of keywords directly related to your product, considering generic and specific terms. Then, leverage keyword research tools designed explicitly for Amazon, such as Amazon's own keyword tool or third-party tools like Helium 10 or Jungle Scout. These tools provide valuable insights into search volumes, competition levels, and related keywords. By analyzing this data, you can uncover high-potential keywords with a good balance of search volume and competition. Remember to consider short and long-tail keywords, as they cater to different user intents. As you conduct keyword research, consider factors like relevance, search volume, and competition to optimize your product listings and increase your chances of ranking higher in Amazon's search results.
Optimizing Product Titles
Crafting keyword-rich and compelling product titles
Best practices for optimizing title length and structure
Product titles are crucial in Amazon SEO, as they directly impact your visibility in search results and the overall user experience. When crafting product titles, it's essential to balance incorporating relevant keywords and creating compelling, easy-to-read titles. Conduct thorough keyword research to identify the most relevant and high-converting keywords for your product. Then, strategically place these keywords at the beginning of your title to maximize their impact. Aim for a concise yet descriptive title that accurately represents your product. Remember that Amazon has specific guidelines to ensure consistency and clarity across product listings. It is recommended to keep your product titles concise and informative, typically within 200 characters or less. Including relevant keywords in your title is essential for search visibility, but it's important to strike a balance and avoid keyword stuffing. A well-structured title should include the key product attributes, such as brand, product name, size, color, and unique selling points. Additionally, structure your title logically and coherently, making it easy for customers to understand the key features and benefits of your product. By strategically optimizing your product titles with keyword-rich and engaging content, you can significantly improve your product's visibility in search results and effectively capture the attention of potential customers.
Enhancing Product Descriptions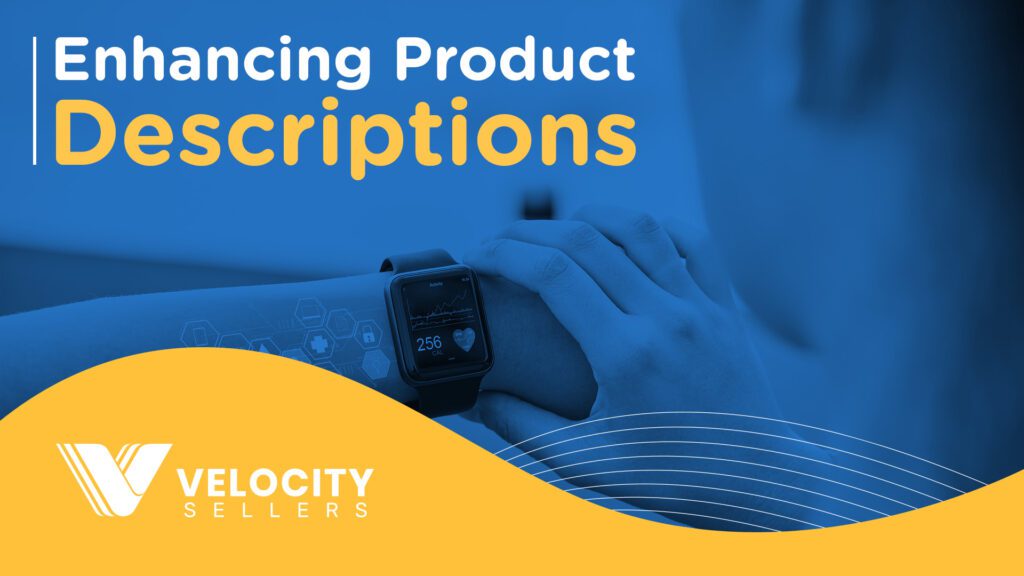 Writing persuasive and informative product descriptions
Incorporating keywords naturally and highlighting unique selling points
When enhancing product descriptions for Amazon SEO, it's essential to craft persuasive and informative content that captivates your audience. Start by clearly highlighting the unique selling points of your product, showcasing its benefits, and addressing customer pain points. Incorporate relevant keywords throughout the description to improve search visibility and connect with potential buyers. Remember to balance optimization and readability, ensuring your product descriptions are engaging, concise, and easy to understand.
Here's an example of a product description for a fitness tracker:

Introducing the FitPro Plus Fitness Tracker – the ultimate companion to help you achieve your health and fitness goals. With advanced features and a sleek design, this innovative tracker offers unparalleled performance and convenience. Track your steps, distance, calories burned, and heart rate precisely and accurately, providing valuable insights into your daily activities. The FitPro Plus also offers sleep monitoring, allowing you to understand your sleep patterns and optimize your rest for better overall well-being. Stay connected with smart notifications for calls, messages, and social media, all displayed conveniently on the vibrant OLED screen. With long-lasting battery life and waterproof construction, this fitness tracker is built to withstand even the most rigorous workouts and adventures. Take control of your fitness journey with the FitPro Plus Fitness Tracker and experience the power of advanced tracking technology in the palm of your hand.

In this example, the unique selling points of the FitPro Plus Fitness Tracker are highlighted, such as its advanced features (tracking steps, distance, calories burned, and heart rate), sleep monitoring capabilities, smart notifications, long-lasting battery life, and waterproof construction. By emphasizing these features, the product description aims to attract potential buyers by showcasing the tracker's benefits and differentiating it from other fitness trackers.
Utilizing Bullet Points and Product Features
Optimizing bullet points to highlight key product features
Structuring and formatting bullet points for maximum impact
When optimizing your product listings on Amazon, utilizing bullet points and highlighting key product features is crucial. Bullet points allow you to present concise and impactful information that captures shoppers' attention. By optimizing your bullet points, you can effectively communicate the unique selling points and key features of your product. Structure and format your bullet points in a clear and organized manner, ensuring easy readability and comprehension.
Let's take the example of a fitness tracker:
Accurate Activity Tracking: Monitor your steps, distance, calories burned, and active minutes accurately.
Heart Rate Monitoring: Keep track of your heart rate during workouts and daily activities for better health insights.
Sleep Tracking: Analyze your sleep patterns, including duration and quality, to optimize your rest and recovery.
Multi-Sport Modes: Choose from a variety of sports modes to accurately track your workouts, whether it's running, cycling, or swimming.
Smart Notifications: Stay connected with notifications for calls, texts, and app alerts directly on your wrist.
Long Battery Life: Enjoy extended usage with a long-lasting battery that eliminates the need for frequent charging.
Waterproof Design: With a waterproof rating of XYZ, you can confidently wear the fitness tracker in the pool or shower.
By utilizing bullet points effectively and highlighting the key features of your product, like in the example above, you can capture the attention of shoppers, convey the value proposition of your product, and enhance your chances of driving conversions.
Optimizing Product Images
Importance of high-quality product images for SEO
Optimizing image titles, alt text, and file sizes
When optimizing your product listings for Amazon SEO, don't overlook the power of high-quality product images. Images play a crucial role in capturing the attention of shoppers and conveying the value of your product. To optimize your product images, use descriptive and keyword-rich titles that accurately represent the product. Additionally, ensure that the alt text for each image is relevant and descriptive and includes keywords when appropriate. Optimizing image file sizes is also essential to improve page load times, as faster-loading pages tend to have better search rankings. By following these practices and providing visually appealing and optimized product images, you can enhance your product's visibility, engage shoppers, and improve your chances of higher rankings and conversions on Amazon.
Example: For instance, let's consider a fitness tracker product. Instead of using generic image titles like "IMG_1234.jpg," optimize the image title to something descriptive and keyword-rich, such as "Fitness_Tracker_ModelX_Front_View.jpg." In the alt text, instead of simply stating "Fitness Tracker," provide more details like "Waterproof Fitness Tracker with Heart Rate Monitor and Step Counter." Lastly, ensure that your image file sizes are appropriately compressed without compromising the visual quality to achieve faster load times. These image optimization techniques will not only improve your product's discoverability on Amazon but also enhance the overall user experience for potential customers.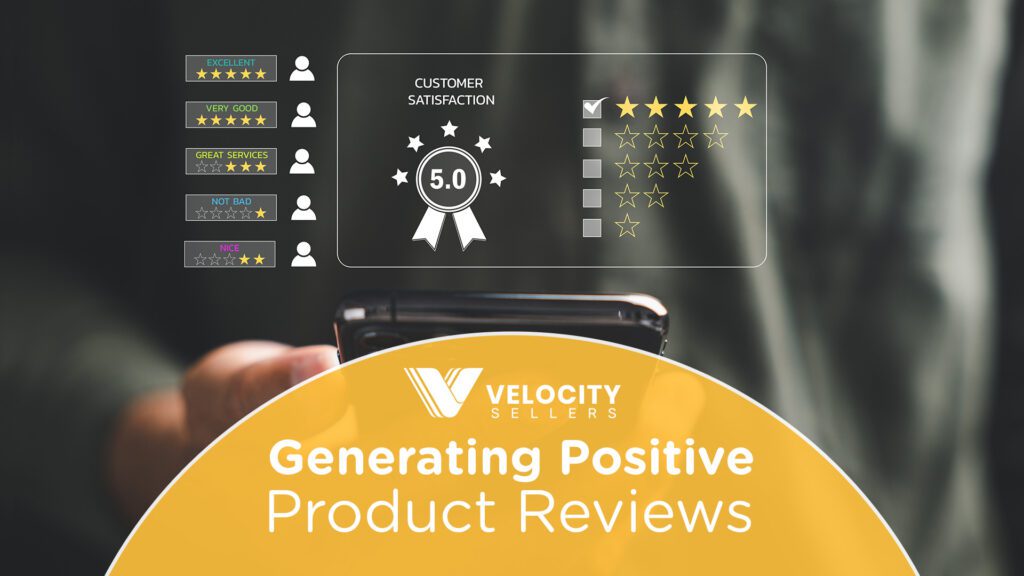 Generating Positive Product Reviews
Strategies to encourage and generate positive customer reviews
Leveraging reviews for improved product rankings
Positive customer reviews are vital in boosting your product rankings on Amazon. To generate positive reviews, it's essential to provide exceptional customer service, ensuring customers have a smooth and satisfying experience. Encourage customers to leave reviews by following up with them after purchase, requesting feedback, and offering incentives such as discounts or loyalty rewards. Additionally, monitor and respond to customer reviews promptly, addressing any concerns or issues raised. Positive reviews not only contribute to your product's reputation but also impact its visibility and rankings on Amazon.
Example: Let's take the example of our fitness tracker product. Implementing strategies to generate positive customer reviews can include providing clear instructions on using the fitness tracker, offering responsive customer support for any questions or concerns, and sending personalized follow-up emails to customers after their purchase, requesting feedback. Consider implementing an automated review request system that encourages customers to leave reviews by offering them a discount on their next purchase or entry into a prize draw. Remember to monitor and respond to customer reviews promptly, addressing any issues or inquiries raised. By generating positive reviews, you not only enhance the credibility and trustworthiness of your fitness tracker but also improve its visibility and rankings on Amazon, leading to increased sales and success.
Building a Strong Product Brand
Establishing a strong brand presence on Amazon
Utilizing enhanced brand content and A+ content
Building a solid product brand on Amazon is crucial for long-term success and improved product rankings. To establish a strong brand presence, create a cohesive and memorable brand identity that resonates with your target audience. Utilize enhanced brand content and A+ content features offered by Amazon to showcase your brand story, unique selling propositions, and high-quality imagery. Leverage these features to provide additional information, demonstrate product benefits, and differentiate yourself from competitors. Consistency in branding across product listings, including product titles, images, and descriptions, helps reinforce your brand image and builds customer trust. By building a solid product brand on Amazon, you can enhance your product rankings, attract more customers, and foster long-term loyalty.
Example: For our fitness tracker brand, building a strong product brand on Amazon involves creating a compelling brand identity that aligns with the active and health-conscious target audience. We can utilize enhanced brand content to share our brand story, highlighting how our fitness tracker helps customers achieve their health and fitness goals. A+ content allows us to showcase detailed product features, benefits, and lifestyle imagery to engage further and inform potential buyers. By maintaining consistency in our branding elements, such as our brand logo, consistent color scheme, and tone of voice, we can establish a recognizable and trusted brand presence on Amazon. This not only improves our product rankings but also attracts more customers who resonate with our brand values and offerings, ultimately leading to increased sales and brand loyalty.
Monitoring and Analyzing Performance
Tracking product rankings and performance metrics
Tools and techniques for analyzing SEO efforts
To ensure the effectiveness of your Amazon SEO efforts, it is essential to monitor and analyze the performance of your product listings continuously. By tracking product rankings and performance metrics, you can gain valuable insights into the impact of your optimization strategies and make data-driven decisions to improve your results.
There are various tools and techniques available to help you monitor and analyze your Amazon SEO performance. These tools provide valuable information about keyword rankings, search volume, traffic sources, conversion rates, and more. By leveraging these insights, you can identify areas for improvement, adjust your strategies, and stay ahead of the competition.
Regularly monitoring your product rankings allows you to identify any fluctuations and take corrective actions promptly. Additionally, analyzing performance metrics helps you understand customer behavior, identify patterns, and uncover opportunities for optimization. By staying informed and adapting your strategies based on data-driven insights, you can continually enhance your product rankings and drive more traffic and sales on Amazon.
Remember, monitoring and analyzing performance is an ongoing process. It is crucial to regularly review and evaluate your SEO efforts to stay ahead of market trends, respond to changing consumer behaviors, and maintain a competitive edge on Amazon.
By adopting a proactive approach to monitoring and analyzing performance, you can optimize your product listings effectively and maximize your visibility and sales potential on Amazon's platform. Utilize the available tools and techniques to gain actionable insights and make informed decisions to propel your products to success.
Here are a few popular tools and techniques that can assist you in monitoring and analyzing your Amazon SEO performance:
Amazon Seller Central: The Seller Central platform provides essential performance metrics, including keyword rankings, conversion rates, traffic sources, and sales data.
Amazon Advertising Console: Amazon's advertising platform offers insights into the performance of your sponsored product campaigns, including impressions, clicks, and ad spending.
Third-Party SEO Tools: Jungle Scout, Helium 10, and AMZScout provide comprehensive analytics, keyword research, and competitor analysis to help you track and optimize your Amazon SEO performance.
Google Analytics: While primarily used for website analysis, Google Analytics can be integrated with your Amazon listings to track traffic, conversions, and user behavior.
Review Tracking Tools: Tools like FeedbackWhiz, Feedback Genius, and AMZFinder help you monitor and manage customer reviews, allowing you to gather feedback and improve based on customer sentiments.
Keyword Research Tools: Tools like MerchantWords, Sonar, and Helium 10's Cerebro enable you to conduct in-depth keyword research, identify high-ranking keywords, and refine your optimization strategies.
Sales Performance Dashboards: Platforms like Sellics, Viral Launch, and HelloProfit provide comprehensive dashboards to track sales performance, organic keyword rankings, and other relevant metrics.
Remember, the choice of tools and techniques may depend on your specific needs, budget, and level of expertise. It's essential to explore and experiment with different options to find the ones that best align with your Amazon SEO goals and requirements.
Staying Updated with Amazon SEO Trends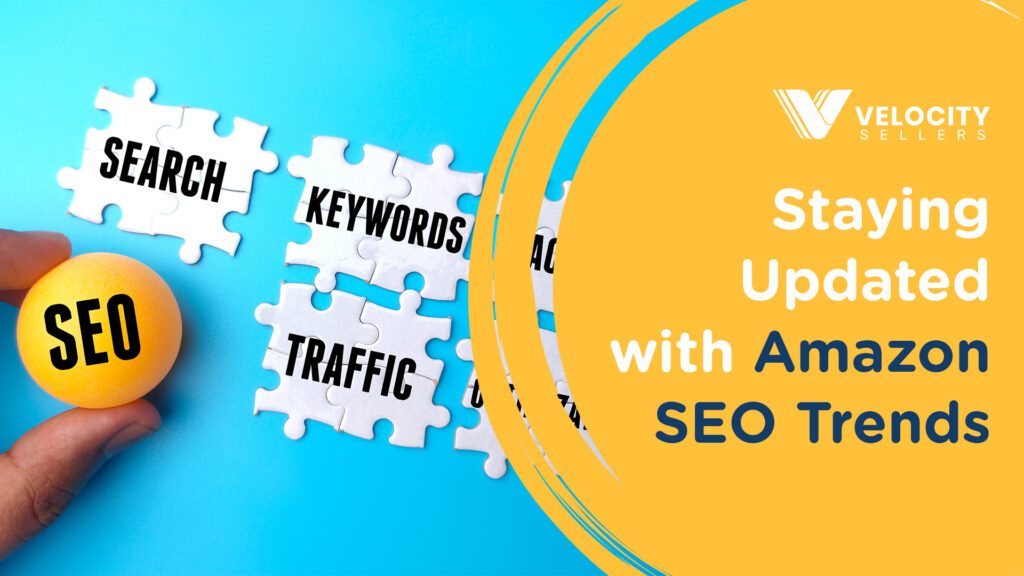 Keeping up with changes in Amazon's search algorithm
Following industry best practices for ongoing success
Amazon frequently updates its search algorithm, making it essential for sellers to stay informed about the latest changes. By keeping a pulse on algorithm updates, you can adapt your optimization strategies to align with Amazon's evolving ranking factors.
One recent example of Amazon's search algorithm change is the introduction of the "A9" algorithm update. This update aimed to enhance the relevance of search results by considering factors such as customer engagement, conversion rates, and product performance metrics. As a result, sellers need to focus not only on keyword optimization but also on providing an excellent customer experience and generating positive reviews.
To stay ahead of the game, it's important to stay informed about industry best practices and emerging trends. Follow reputable industry blogs, attend webinars, and join Amazon seller communities to gain insights and share knowledge. Regularly monitor Amazon's official announcements and documentation to stay updated on algorithm changes or policy updates.
By staying proactive and continuously adapting your Amazon SEO strategies, you can ensure ongoing success and maintain a competitive position in the ever-evolving Amazon marketplace.
Final thoughts and encouragement for implementing effective Amazon SEO techniques
In conclusion, boosting your product rankings on Amazon requires a comprehensive approach encompassing various strategies and techniques. Throughout this guide, we have explored the fundamental aspects of Amazon SEO, including keyword research, optimizing product titles and descriptions, utilizing bullet points and product features, optimizing product images, generating positive reviews, building a solid brand presence, monitoring performance, and staying updated with Amazon SEO trends.
By implementing these key strategies, you can significantly improve your product's visibility, attract more potential customers, and increase your chances of driving conversions. Remember, Amazon SEO is an ongoing process that requires continuous monitoring, analysis, and adaptation to stay ahead of the competition.
As the world's largest online marketplace, Amazon offers immense opportunities for businesses to reach a global customer base. By harnessing the power of Amazon SEO, you can position your products for success and maximize your sales potential.
So, take action today and start implementing effective Amazon SEO techniques. Invest time in conducting thorough keyword research, optimize your product content, leverage customer reviews, and build a strong brand presence. Stay informed about the latest trends and algorithm updates, and continuously monitor and analyze your performance to make data-driven decisions.
With dedication, perseverance, and a strategic approach, you can unlock the full potential of Amazon SEO and propel your products to new heights of success in the competitive e-commerce landscape.
Remember, you have the knowledge and tools to make a significant impact. Seize this opportunity and embark on your journey toward boosting your product rankings on Amazon.