June 08, 2023
What is Amazon's Buy with Prime
Are you an online seller looking to increase your sales and offer a more convenient shopping experience to your customers? Amazon's Buy with Prime is the solution you need. In this article, we'll explore what Buy with Prime is, how it works, and the benefits of using it for your e-commerce business.
Buy with Prime is a program offered by Amazon that allows online sellers to offer fast and free shipping to their customers. With Buy with Prime, sellers can tap into Amazon's vast fulfillment network to offer customers the same fast and reliable delivery experience that Prime members enjoy.
How it works
To use Buy with Prime, sellers need to have inventory stored in an Amazon fulfillment center. Once the inventory is set up, sellers can add a Buy with Prime button to their website to inform customers that the product is eligible for fast and free shipping. When a customer clicks on the Buy with Prime button, Amazon handles the entire fulfillment process, from picking and packing to shipping and handling customer service inquiries.
"Seeing a 40% jump in conversion was astonishing to us. After adding Buy with Prime, we saw an immediate conversion lift, which is what any marketer, any brand, and any company wants. It helps us carry out our mission to reduce single-use plastic water bottle pollution.

Oliver Crane

Chief Operating Officer, Epic Water Filters
The benefits of using Buy with Prime
With Buy with Prime, customers get the same fast and free shipping experience that they've come to expect from Amazon. This familiarity can help build trust and loyalty with customers, leading to repeat business and positive reviews.
By offering fast and free shipping with Buy with Prime, sellers can build stronger relationships with their customers. This can lead to more positive feedback and word-of-mouth referrals, helping to grow your business.
Amazon handles the entire fulfillment process, from picking and packing to shipping and handling customer service inquiries. This means sellers can focus on growing their business without worrying about logistics.
Amazon recently announced a new integration with Big Commerce, making it easier for sellers using the platform to offer Buy with Prime to their customers.
What information does Amazon collect when you use Buy with Prime, and what is it used for?
At Buy with Prime, your account's information is protected seriously. This includes contact information for your account users, product descriptions, inventory and pricing information, and order details. The secure system collects and stores data on Buy with Prime orders, including product name, quantity, and returns information. In addition, shopper engagement data is being analyzed to track how often products offering Buy with Prime are viewed, as well as the frequency of purchases and abandoned checkouts.
Account information – to communicate with you about Buy with Prime and to recommend other Amazon services that might interest you.
Buy with Prime order information – to process payments, fulfill customer orders, facilitate customer communication about orders, and provide returns and refunds.
Inventory and order information – to improve our fulfillment services for Buy with Prime merchants, FBA sellers, and Amazon. This helps us optimize network capacity and forecast inventory placement for efficient order fulfillment.
Merchants information – to understand how Prime members use Buy with Prime and its value as a Prime benefit. This information may also be used to inform the way it is being priced, promoted, and provided services related to Buy with Prime, such as Amazon Multi-Channel Fulfillment and the Prime program.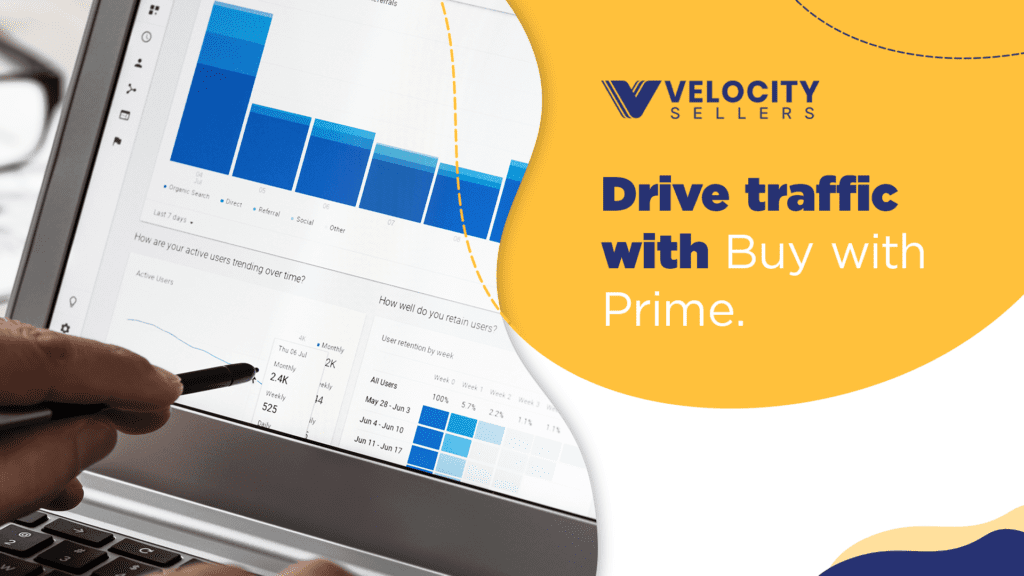 Drive traffic with Buy with Prime
One of the biggest challenges for online retailers is getting traffic to their websites. But with Buy with Prime, you can tap into Amazon's massive audience and drive traffic to your site. By adding the Buy with Prime button to your site, you're offering a familiar shopping experience that customers already know and trust.
But that's just the beginning. With Amazon's marketing solutions, you can accelerate your growth and reach more engaged Amazon shoppers. For example, you can create ads featuring the Buy with Prime badge to engage shoppers on Facebook and Instagram. This is a powerful way to drive shopper interest in your products and build brand awareness.
Stand Out with Buy with Prime
In today's crowded online marketplace, it's more important than ever to stand out from the competition. That's where Buy with Prime comes in. By offering fast, free delivery with the Buy with Prime badge, you give shoppers a compelling reason to choose your products over others.
To make the most of Buy with Prime, use the marketing toolkit provided by Amazon. This includes downloadable assets and brand guidelines you can use to engage Prime members across your marketing channels. By creating consistent, high-quality messaging across all your marketing channels, you can build brand recognition and trust with your audience.
"55% of shoppers say free shipping is the most important benefit when shopping online."
Increase Purchase Confidence
Once you've captured a shopper's attention and they're browsing your site, it's important to keep them engaged. With Buy with Prime, you can help shoppers validate their purchasing decision by displaying ratings and reviews from Amazon.com directly on your site. Shoppers can filter reviews by product star ratings and categories such as "top reviews" and "most recent."
But that's not all. You can also amplify your existing product reviews from Amazon.com to give shoppers more information about your Buy with Prime products. By displaying total rating counts, individual written reviews, verified purchase badges, and review dates on your Buy with Prime product pages, you're giving shoppers all the information they need to make an informed decision.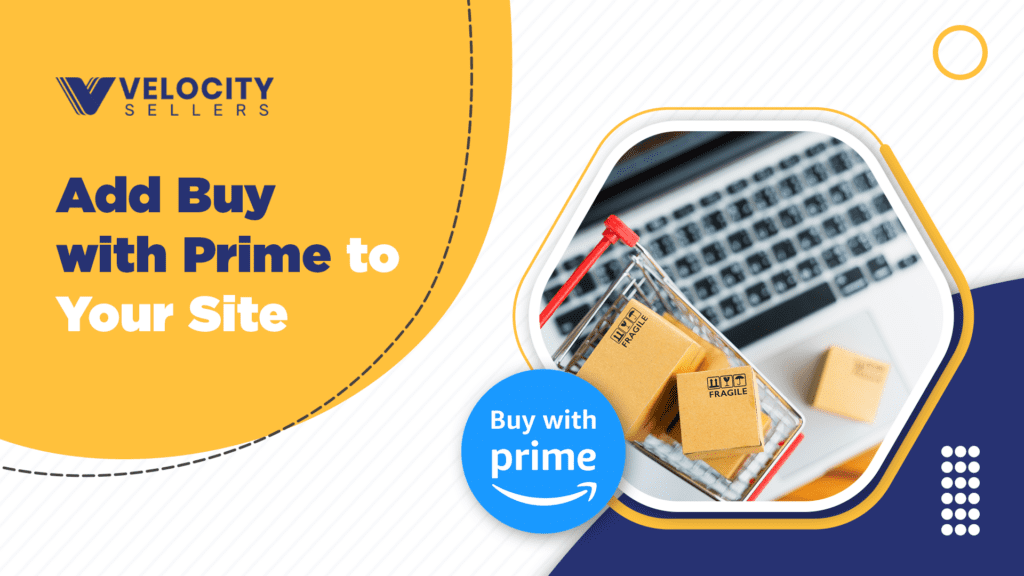 Add Buy with Prime to Your Site
If you have inventory in an Amazon fulfillment center, adding Buy with Prime to your e-commerce site is quick and easy. In just four steps, you can offer a delivery and checkout experience millions of shoppers trust. Here's how:
Sign up and create your account
Link accounts and import products
Choose which products offer Buy with Prime
Create and install the button
That's it! By adding Buy with Prime to your site, you're tapping into the power of Amazon's massive audience and giving shoppers a familiar, trusted shopping experience. And with the added benefits of fast, free delivery and authentic reviews from Amazon, you're well on your way to building a loyal customer base and accelerating your growth.